For those of you who follow my Twitter Roll, you'd already know that I have myself one of them there cool new iphone thingys and have fallen head of heels in love with it…
Well, whilst working on the new theme for this blog [a few final tweaks still to be made] I stumbled across two really cool must have wordpress plugins that make the iphone that little bit cooler. Yes, the iPhone can get cooler!


1. iWPhone WordPress Plugin and Theme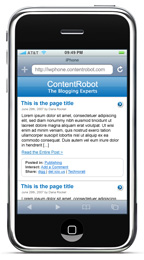 This little baby automatically reformats your blog's content for optimized viewing on iPhone. It detects the browser being used and displays the content with a "special" theme only to iPhone visitors, whilst keeping the traditional WordPress blog skin for web-browsers.
Anyone who has used an iPhone to browse the web knows, first hand, the amazing job it does displaying web pages the way they were designed to be seen – unlike alot of mobile browsers available.
But what the iWPhone WordPress Plugin and Theme does is display an optimized version of your blog's content, formatted perfectly to fit the iPhone touch's screen – so visitors don't have to zoom in to read the content or download large files etc etc.
Some of the cool features the team at Content.Robot included when designing this plugin are:
Automatic formatting of your blog theme/content for optimized viewing on the iPhone

and iPod touch.

Simple iPhone/iPod-like theme with common interface elements that compliments the iPhone/iPod touch's internal applications.
and my favourite… Images larger then 300 pixels wide are automatically scaled down to fit the iPhone/iPod touch optimized width.
2. iPhone / Mobile WordPress Admin Plugin
Now, not as exciting as the iphone plugin above… this funky tool adapts the WordPress Admin Interface and makes its more friendly to mobile devices, specifically iphones.
All the most common WordPress admin features are supported, such as:
Dashboard sections: Incoming Links, Comments, Posts, Blog Stats
Writing and editing posts (including auto-save)
Tagging support in 2.3
Comment Moderation
Manage Posts page
Manage Profile page
Ability to toggle back and forth to the normal admin view.
Support for plugins that include fields on the post page
Compatibility with existing library of admin plugins
So if you have an iphone, or the readers of your blog are the type of people who would own an iphone [read: everyone] I would strongly advise you to invest the 8mins and install these two wordpress plugins, because the more ways you make it easier for someone to interact with you (and your blog) the more loyal followers they will become…
If you install the iWPhone WordPress Theme Plugin, please leave a comment below as i'd love to check out your blog….
[tags] wordpress, plugin, iphone, iwphone, admin, mobile, plugins, pete, williams [/tags]